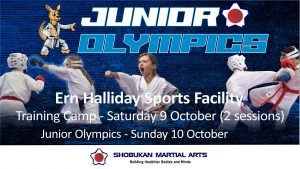 Dear Members
Shobukan Martial Arts will be hosting the Annual Junior Olympics competition. Together with a two-day training camp at the Ern Halliday Recreational Camp facilities in Hillarys.
The camp will be held from 9 & 10 October 2021
The training sessions are available for 6 years and above,  & the competition is available for ages 4 years and above.
Saturday 9 October – 2 x Training sessions
Sunday 10 October – Junior Olympics competition.
TRAINING
Includes;
• Team building exercises
• Fitness and Games
• Character development, learning to persevere and challenge themselves
• Advanced training for competition Kata and Kumite.
Students are able to train in an environment and at a speed that is appropriate for their age group and skill level.
Our dedicated and professional staff are focused on providing a safe and positive learning environment for all children, while most importantly encouraging them to have fun and enjoy the experience.
The camp is well staffed with professional martial arts instructors, program directors, senior staff members, and assistants.
A camp checklist will be provided to help everyone have the best experience possible.
Please read it and make sure your children come prepared.
Camp Schedule
Saturday 9 October (6 years +)
Training Session 1 : 9.00am – 10.30 am
Morning Tea : 10.30am – 11.00am (Bring your own)
Training Session 2 : 11.00am – 12.30pm
Lunch : 12.30pm – 12.30pm – 1.30pm (Provided)
Games & Activities : 1.30pm – 2.30pm
Sunday 10 October (4 yrs +)
Competition: 9.00pm – 4.00pm Junior Olympics (All Ages)
Students may compete in Kata (forms) and/or Kumite (sparring).
State Team members and members who have medalled in WA elite categories will be exempt from the Junior Olympics.
Ern Halliday Recreation Camp
Whitfords Avenue
HILLARYS WA 6025
Thank you and we look forward to having an exciting camp with your child.
Yours Sincerely,
The Shobukan Team
Shobukan Camp & Junior Olympics